Nifco?
Sparking Innovation by fastening small insights with technology for a better world
(Nifco's purpose)
Connect, Bundle, & Tie
Nifco's plastic fasteners greatly surprised the industry with their unique rust free, light weight, easy-to-handle features. Our leading edgeinnovations have changed the automobile manufacturing process, leading to cars with greater safety, less weight, more comfort and reduced environmental impact. We are expanding the use of this technology to spark innovations in home life and appliances as well as sports and outdoor equipment. Nifco will continue to lead the way for a comfortable life and a sustainable society.
Let's explain Nifco's characteristics in a little more depth.
What kind of products do we make?
Nifco was founded in 1967 for the purpose of manufacturing and selling industrial plastic fasteners.
The current name NIFCO is the acronym of the original company name, Nippon Industrial Fastener Corporation. Nifco's plastic fasteners used for connecting, building, and tying are small enough to fit in the palm of your hand.
Our plastic fasteners contributed greatly towards labor savings and cost reductions in manufacturing processes, and they were eventually installed in many automobiles as the automotive industry grew.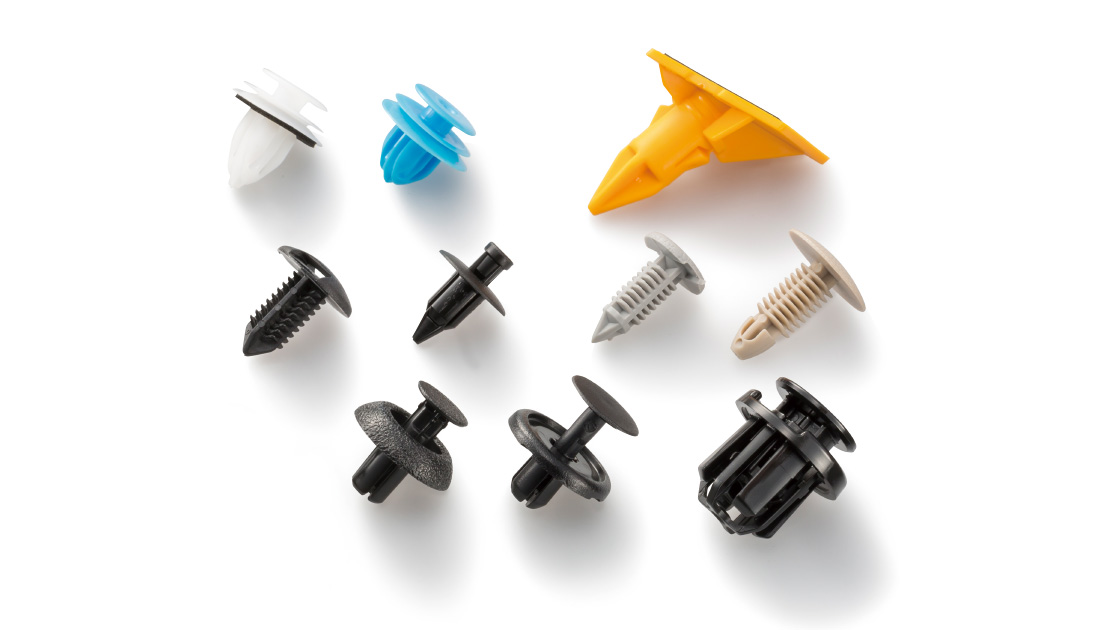 What is special about Nifco's plastic fasteners?
They are light and easy to remove.
By switching from metal to plastic-based products, our fasteners have contributed to labor savings, cost reductions, and the reduced weight of vehicles.
Nifco's products are used in many areas throughout a vehicle.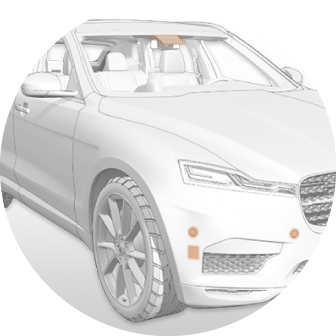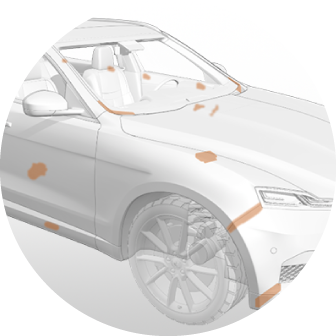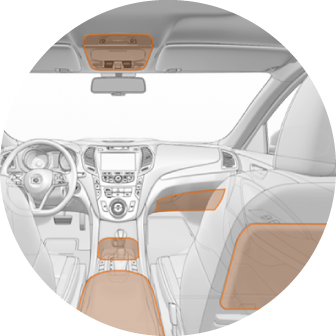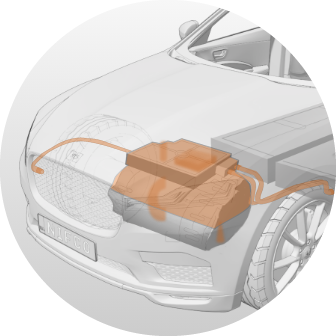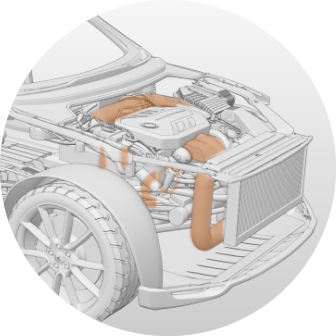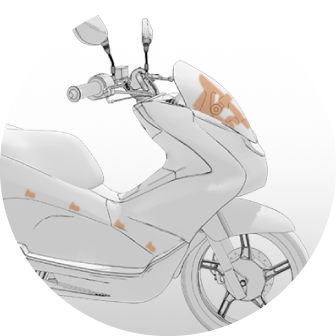 Nifco's products are not limited to only plastic fasteners.
Nifco produces mini-dampers that help achieve smooth motion without the use of electricity or other power sources, push latches that spread the concept of "push open" all over the world, parts for fuel tanks that comply with environmental regulations, and engine transmission products that call for highly advanced design capabilities. We continue to this day to create one new product after another, using our original ideas and technological capabilities.
Where are dampers used?
In vehicles for example, dampers are used in areas, such as cup holders, assist grips, and glove compartments.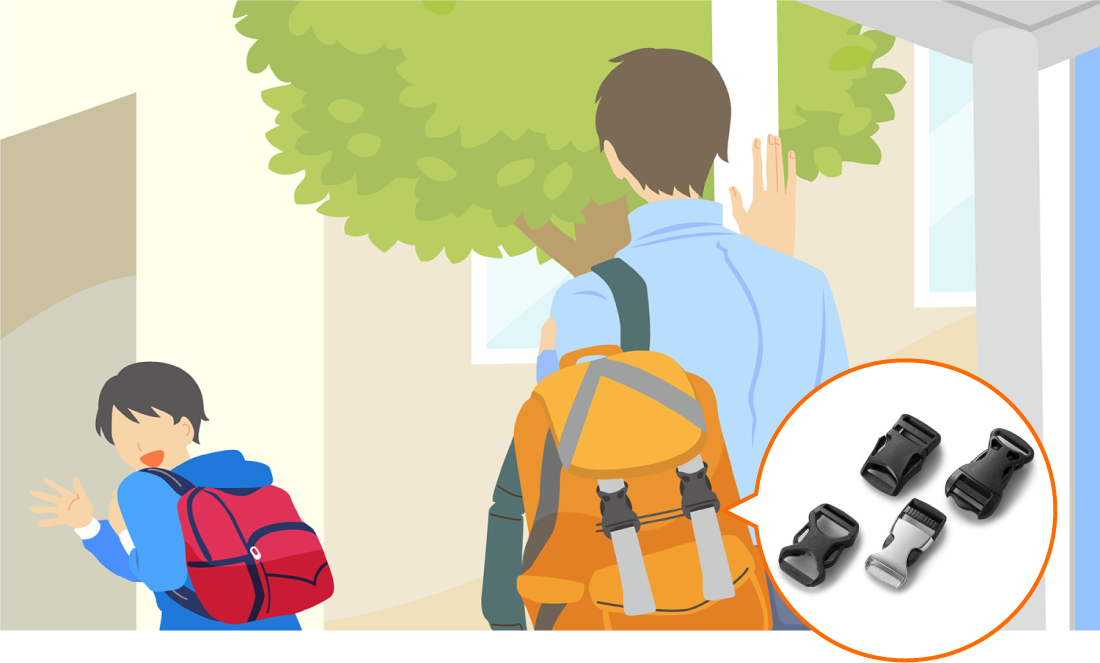 What are some other Nifco products that are used around us aside from in vehicles?
Nifco's products are used everywhere. For example, Nifco also develops and manufactures buckles used for bags and backpacks.
Nifco's products are not limited to just automobiles!
Nifco's products, being made of plastic, are light, non-rusting, and easy to handle.
The innovations developed by Nifco engineers worldwide have been transformed into new technologies that have been integrated into every aspect of our lives, including our vehicles and homes.
Can you name three of Nifco's strengths?
01
Nifco's creativity
Nifco's greatest strength lies in its capability to make proposals that fulfil the needs of customers in any kind of industrial sector.
Since it was founded in 1967, Nifco has continued to develop as a solution-oriented company that solves the various problems faced by customers.
For example, mini-dampers that give a luxurious feel with smooth movement were initially developed for consumer electronics.
Nifco incorporated these parts into cup holders to enhance comfort in vehicles.
Nifco creates products with high added value, and then connects values together to create further values.
This is what Nifco has always done, offering its original products to provide solutions for customers' requirements and issues.
We currently hold approximately 3,400 intellectual property rights worldwide.
Every car produced in Japan contains more than 700 Nifco products.
Nifco strives to exceed customer expectations, and this is the driving force behind our creativity.
Nifco holds approximately 3,400intellectual property rights worldwide
(as of March 31, 2021)
every car made in Japan Over700Nifco products are used in every car made in Japan
02
Nifco's quality
To meet the ever-increasing demand for higher quality, Nifco begins the analysis of its products from multiple aspects in the early design phase and also proactively establishes function-assessment facilities for its products.
Automating mass production has enabled Nifco to keep delivery dates and high quality as well as to enable a continuous supply of high-quality products.
Thanks to this reliable quality, Nifco receives high praise from customers all over the world in not just the automotive industry, but also in those for household equipment, consumer electronics, fashion, and sport.
We endeavor to expand our activities into new business areas.
03
Nifco's global presence
Customers' needs can be anywhere in the world.
Nifco entered the global market in 1983. Nifco's global development started in Taiwan and expanded into North America, Europe, and Asia.
Nifco will collaborate with group companies worldwide to further expand into the global market and implement a system to consistently deliver optimal solutions to our customers.
45plants
in16countries and regions
(as of March 31, 2021)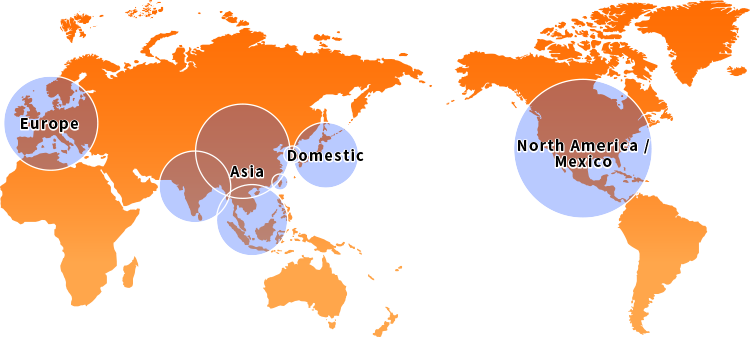 Nifco's products are used by customers from all over the world in a variety of industries.
Bayerische Motoren Werke AG Group
BYD Company Limited Group Canon Inc.
Daihatsu Motor Co., Ltd.
Daimler AG Group
Ford Motor Company Group
General Motors Company Group
Great Wall Motor Company Limited Group
Hino Motors, Ltd.
Honda Motor Co., Ltd.
Hyundai Motor Company Group
Isuzu Motors Limited
MAZDA Motor Corporation
Mitsubishi Fuso Truck and Bus Corporation
Mitsubishi Motors Corporation
Nissan Motor Corporation
SUBARU Corporation
SUZUKI Motor Corporation
Tata Motors Limited Group
Tesla, Inc. Group
Toyota Motor Corporation
Volkswagen AG Group
Yamaha Motor Co., Ltd.
Major Suppliers
Major Office autmation manufacturer
Major Electronics manufacturer
Major Household Equipment manufacturer
Major sporting goods companies
and so on
alphabetical order
Did you enjoy reading about Nifco?
Nifco's products, right in front of us, and on the other side of the world, exist in various places.
We hope Nifco can continue to bring inspiration to your everyday lives.
What is planned for Nifco's future?
The section on Nifco's Future explains the future strategies of the company.
Read here to find out about Nifco's future.