Nifco Inc. (Headquarters: Yokosuka City, Kanagawa Pref., President: Masaharu Shibao (hereinafter, Nifco)) has commercialized and started mass production of easy-to-recycle resin service hole covers for door mirrors.

In recent years, the automobiles that do not emit engine noise, such as EV whose market is expanding, have increasing demand for sound insulation against road noise, and, in order to secure the interior tranquility and comfort, there is an increasing need for parts with high sound insulation that close even the small work holes required when assembling the car body.
In addition, global needs for reducing environmental impact continue to be high, and there are expectations for the use of highly recyclable materials or structure for automotive plastic parts.  
In response to all of these needs, Nifco has developed a resin cover that closes the service hole for door mirrors (the work hole required when assembling the door mirror to the vehicle body), using easily recyclable materials and the structure.  
This product is installed in the Toyota Motor Corporation 'Crown' and contributes to the realization of a comfortable interior space.
<Product Characteristics>
By abolishing the seal sponge and adopting a double lip shape integrated with the main body,
 ➣Improved trackability with sheet metal and noise reduction (52.7db → 40.6db *Measured by Nifco, single product)
 ➣Reduced the number of parts and the cost

Improved recyclability by adopting olefinic elastomer (TPO) and making it a mono-material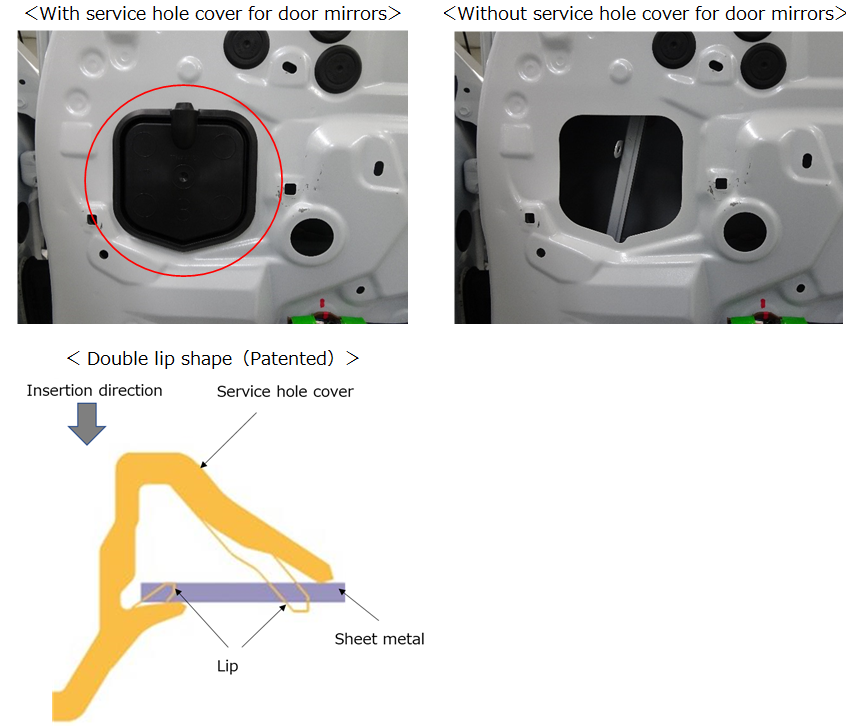 Nifco will continue to sincerely address customer issues and contribute to the realization of various products that lead to a better environment, safety and comfort in order to realize our purpose of 'Sparking innovation by fastening small insights with technology for a better world'.
Please view other Nifco products here:
For inquiries regarding this matter, please contact:
Nifco Inc., Administration Department, Administration Section.
TEL: 03-5476-4850
Email: soumu@jp.nifco.com